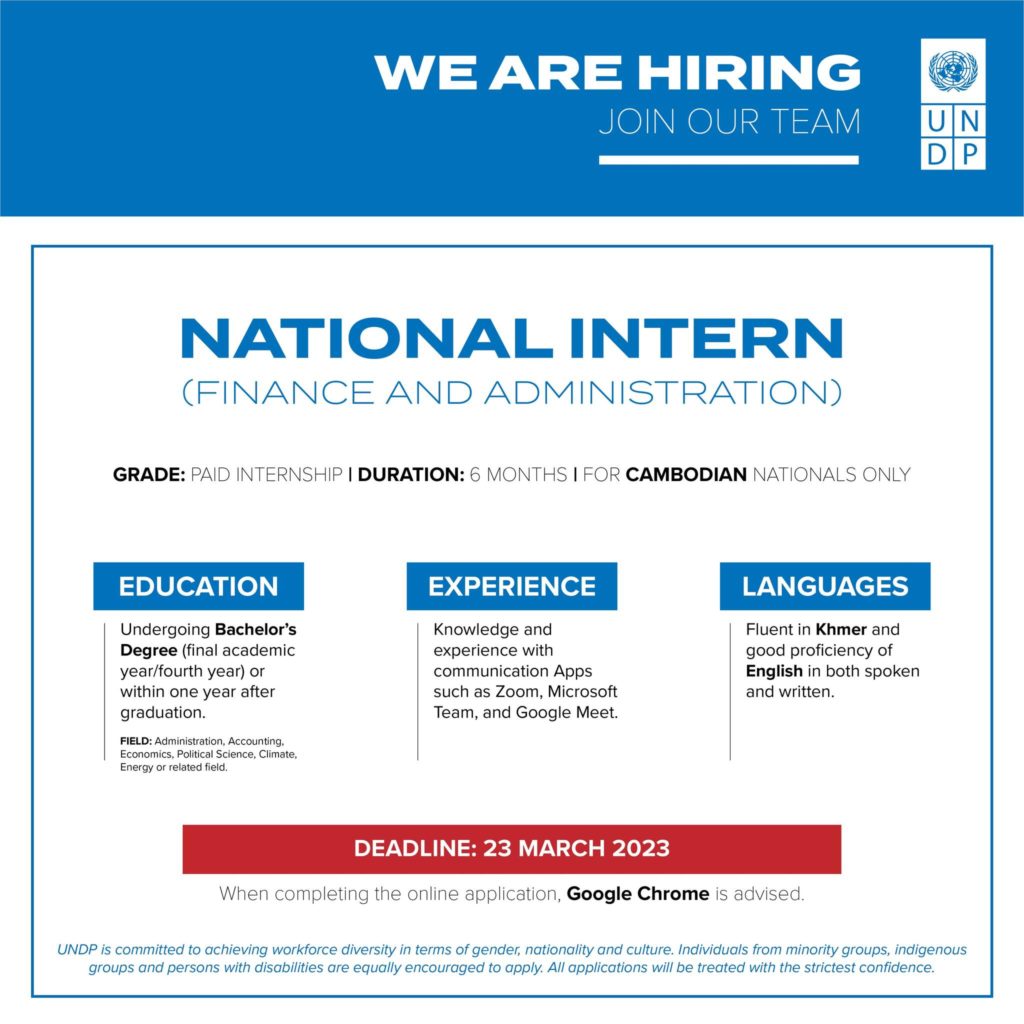 About the position
• Location: Phnom Penh, Cambodia
• Deadline: 23/March/2023, 11:59 AM
• Language Requirement: English
• Type of Contract: Intern
• Contract Duration: 6 months
Background
In close alignment with the United Nations Development Assistance Framework (UNDAF), the UNDP Cambodia's country programme provides strategic direction for its People, Planet, and Prosperity pillars focusing on multi-dimensional poverty and inequalities; environmental sustainability, biodiversity conservation, and climate change adaptation; transition to a green, inclusive and resilient economy; and improved governance. Under the environment portfolio, a number of initiatives were established. While the team members are being recruited, there is a need for administrative and logistics support during the transition, especially for the solar-agriculture and disaster risk reduction teams. Therefore, UNDP is looking for an intern to provide support on a full-time basis.
Duties and Responsibilities
The intern will perform the following tasks:
Prepare documents to support the payments process for project-related activities;
Prepare necessary documents to support the procurement of project-related supplies/equipment and update procurement plans as needed;
Support communications activities to ensure full and effective participation of all stakeholders in the project;
Support the preparation of meetings/workshops/trainings (e.g. participants invitation; support and operate audio and videoconferencing technology and equipment; admin/logistics and minute taking);
Track and store electronic documents such as PDFs, word processing files and digital images of relevant project activities and documents;
Provide translation and/or interpretation support as required;
Contribute to knowledge building and knowledge sharing.
Competencies
Ability to perform a variety of repetitive and routine tasks and duties related to event management;
Ability to operate and maintain a variety of computerized business machines and office equipment to provide efficient delivery of service;
Ability to organize and complete multiple tasks by establishing priorities;
Demonstrates ability to quickly shift from one task to another to meet multiple support needs;
Establishes, builds, and maintains effective working relationships with staff and clients to facilitate the provision of support.
Required Skills and Experience
Education:
Undergoing Bachelor's Degree (final academic year/fourth year) or within one year after graduation in Administration, Accounting, Economics, Political Science, Climate, Energy or related field.
Skills and experience:
Good knowledge of Microsoft Office software, Windows 10 and Mac operating system;
Knowledge and experience with communication Apps such as Zoom, Microsoft Team, Google Meet;
Good communication skills and ability to work effectively under pressure in a team and in a multicultural environment;
Positive attitude towards learning and sharing.
Language Requirements:
Fluent in Khmer and good proficiency of English in both spoken and written.
Stipend
Where an intern is not financially supported by any institution or programme, such as a university, government, foundation or scholarship programme, a stipend intended to help cover basic daily expenses related to the internship, such as meals and transportation at the duty station, must be paid by the receiving office;
The monthly amount of the stipend will be determined for each duty station based on the stipend rates published yearly by the OHR Policy and Compensation Unit. The stipend (USD 234.37) will be paid on a monthly basis and part-time internship arrangements are prorated accordingly;
Where an intern is financially supported by an institution, government or third party, UNDP will, subject to the rules of such institution, government or third party, pay the intern the difference, if any, between the external financial support provided and the applicable UNDP stipend;
No other payments of any kind will be made to an intern by the office in connection with an internship agreement.
NOTE: This position is open for Cambodian nationals only.
How to apply
You need to apply online through UNDP Careers Website – Click here