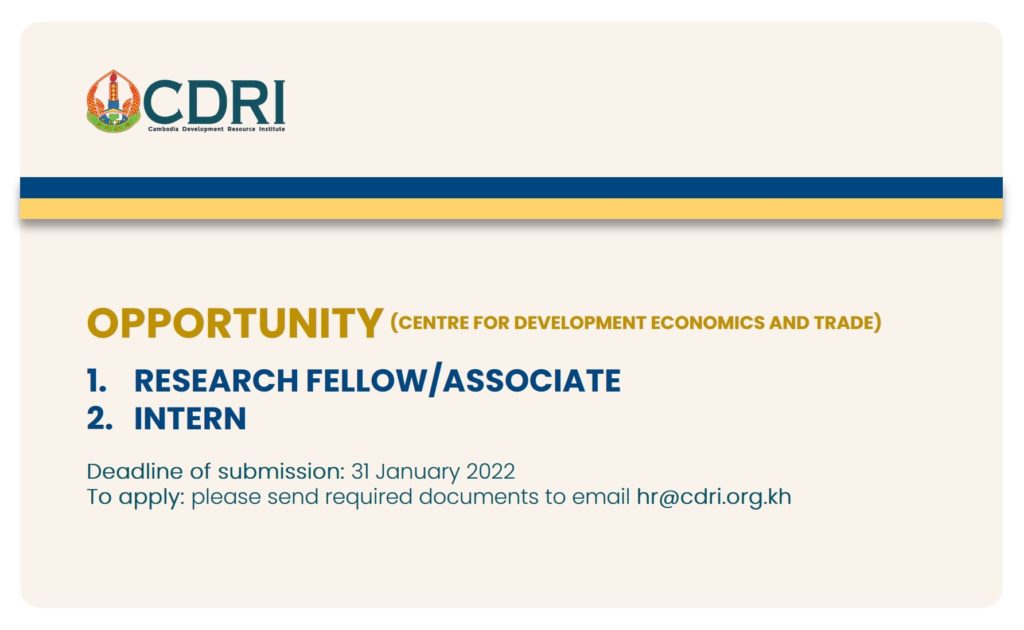 About the position
• Position: Intern
• Salary: $200
• Location: Phnom Penh
• Schedule: Ful-time
• Deadline: 31 January 2022
Background
The Cambodia Development Resource Institute (CDRI), Cambodia's leading independent development policy research institute, is seeking to recruit TWO Full-time Interns for a Six-month period to assist with research and operations at the Centre for Development Economics and Trade (CDET). 
Qualifications and requirements
Fresh graduates in the field of economics, development studies or international studies.
Basic understanding of quantitative/qualitative research methods.
Knowledge of emerging development and policy issues, that of regional or global trends is an advantage.
Good communication skills in Khmer and English, both oral and written. Positive attitudes, commitment to excellence, and ability to work in a team and independently.
Ability to use Microsoft Office applications (e.g., Words, Excel, Outlook etc.), and preferably other data analysis packages (e.g., Stata or SPSS).  
Willingness to undertake a variety of duties including administrative and logistical tasks as required by the centre director and/or by researchers.
Commitment to work in this position for a minimum of six months.
Benefits:
Participate in CDRI's mentorship, professional development training program, and other research events such as research workshop, seminar and webinar.
Have access to useful resources for research.
Be a part of a highly dynamic and innovative team.
Have opportunities to establish connection with CDRI's local and foreign research partners and universities.
A monthly stipend of USD200.
Application Information
Interested applicants are invited to submit Curriculum Vitae and a cover letter stating motivation and qualification to HR and Administration Department of CDRI via hr@cdri.org.kh or hard copy to CDRI # 56, St 315, Tuol Kork, Phnom Penh.
Female applicants and applicants with disability are particularly encouraged to apply. Only short-listed candidates will be notified.
For more detail Click here